KAY Tech is a Saudi IT specialized company. We offer integrated solutions and technical consulting for hardware, software and networks since 2003. At KAY, we are passionate to satisfy our customers, support their creativity and enable them to build a deeper experience in their business based on our many professional national experiences.
We provide technology and support services to government entities, large companies, SMBs, SMEs and entrepreneurs. We are working on Development e-services platforms, electronic portals for various agencies and organizations, making electronic platforms more efficient and maximum quality, integrated connectivity between data centers, designing specialized solutions in Development data centers and IT networks of various sizes and planning and gathering both client's and project's needs to Development the work methodology and implementation.
At KAY TECH we are proud to have successfully completed more than 120 projects with more than 37 clients, and actively contribute to the implementation of technical initiatives related to the vision of Saudi Arabia 2030. Our partnerships help us improve and expand our technical and operational knowledge, which allows us to provide the best solutions with excellent quality.
KAY Tech has formed alliances and partnerships with well-reputed powerful local and international companies and organizations such as USA, France, Malaysia, Australia, and Korea. As a result, KAY provides professional services and products following the best national and international standards. We are supporting Saudi Arabia VISION 2030 and enabling the National Transition programs 2020 to reach the top five positions in the eGovernment Index from the 36th position.
AGILE
Methodology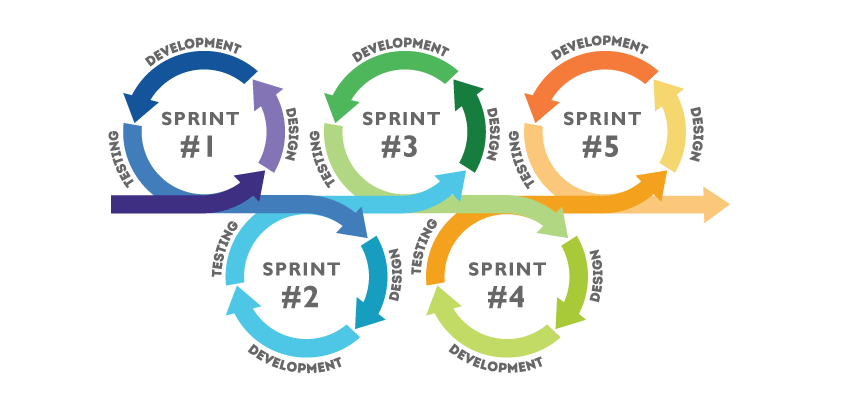 We can adopt another methodologies such as waterfall, and another PMI methodologies according to the project
To have an overview about Kay services, products and technologies, you can download Kay profile pdf file from here.